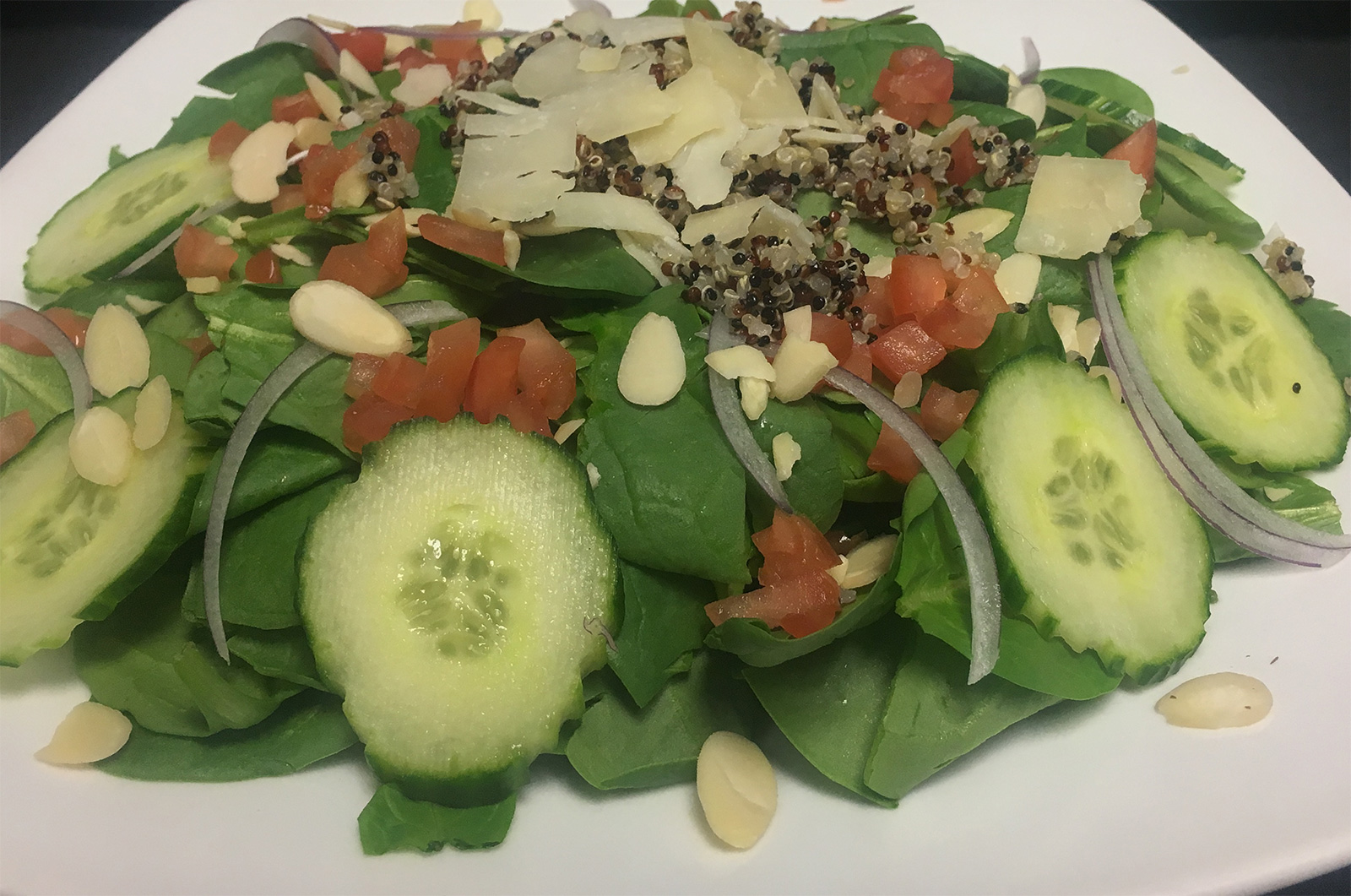 ---
*Salad Additions (full sized salads only): fried oysters 9, chicken breast 6, tuna 11, salmon 9, shrimp 7, beef tenderloin 4oz 9 or 8oz 15
House-Made Dressings: roasted garlic Caesar, creamy blue cheese, white balsamic vinaigrette, & basil-walnut
CAESAR SALAD
Side: $4 - Entree: $9
artisan romaine lettuce, shaved parmesan, Caesar dressing and cornbread croutons
HOUSE SALAD
Side: $4 - Entree: $9
mixed greens, tomatoes, carrots, shaved red cabbage, cucumbers, Spanish onions –suggested dressing: white balsamic vinaigrette
KALE SALAD
Side: $6 - Entree: $11
Granny Smith apples, Danish blue cheese, Roma tomato, boiled egg, candied bacon, caramelized sweet onions -suggested dressing: basil walnut vinaigrette
SPINACH & QUINOA SALAD
Side: $6 - Entree: $11
baby spinach, cucumber, tomato, Spanish onions, almonds, shaved parmesan cheese with white balsamic vinaigrette
Brunch Benedicts
All benedicts are served on a toasted baguette, with spinach, grilled tomato, two poached eggs and topped with hollandaise and come with your choice of potato hash or stone ground grits.
FILET OR BEEF TENDERLOIN
$19
FRIED GREEN TOMATO & PIMENTO CHEESE
$15
pan sautéed jumbo shrimp with Italian sausage, green onion, garlic, diced tomato, in a Tasso & parmesan cream sauce, served over stone ground grits
blue-corn tortilla crusted avocado, cheesy crab & roasted corn melt topping with poached eggs and a Lizano hollandaise, served with tri-color hash browns
BISTRO CHICKEN & WAFFLE
$18
buttermilk fried boneless chicken breast & thick cut bacon served over our Texas toast style brioche French toast. Topped with a white truffle-honey syrup & garnished with potato hash
PECAN-CRUSTED STUFFED FRENCH TOAST
$15
Two pecan crusted thick cut slices of brioche. Stuffed with Ivanhoe Blueberry Farms blueberry & vanilla custard, topped with powdered sugar. Served with potato hash & melba maple syrup
two boneless, blackened chicken breast, served over a sweet Italian sausage, white-bean & kaleragout, topped with a roasted garlic tomato aoli
BURGANDY BEEF TIPS & KALE
$21
served over Danish blue cheese risotto
sautéed spinach and risotto with lemon & caper tartar sauce
QUICHE DU JOUR
Market Price
fresh out of the oven quiche –made daily
*These items may be cooked to order. Consuming raw or undercooked meats, poultry, seafood, shellfish or egg may increase your risk of foodborne illness.