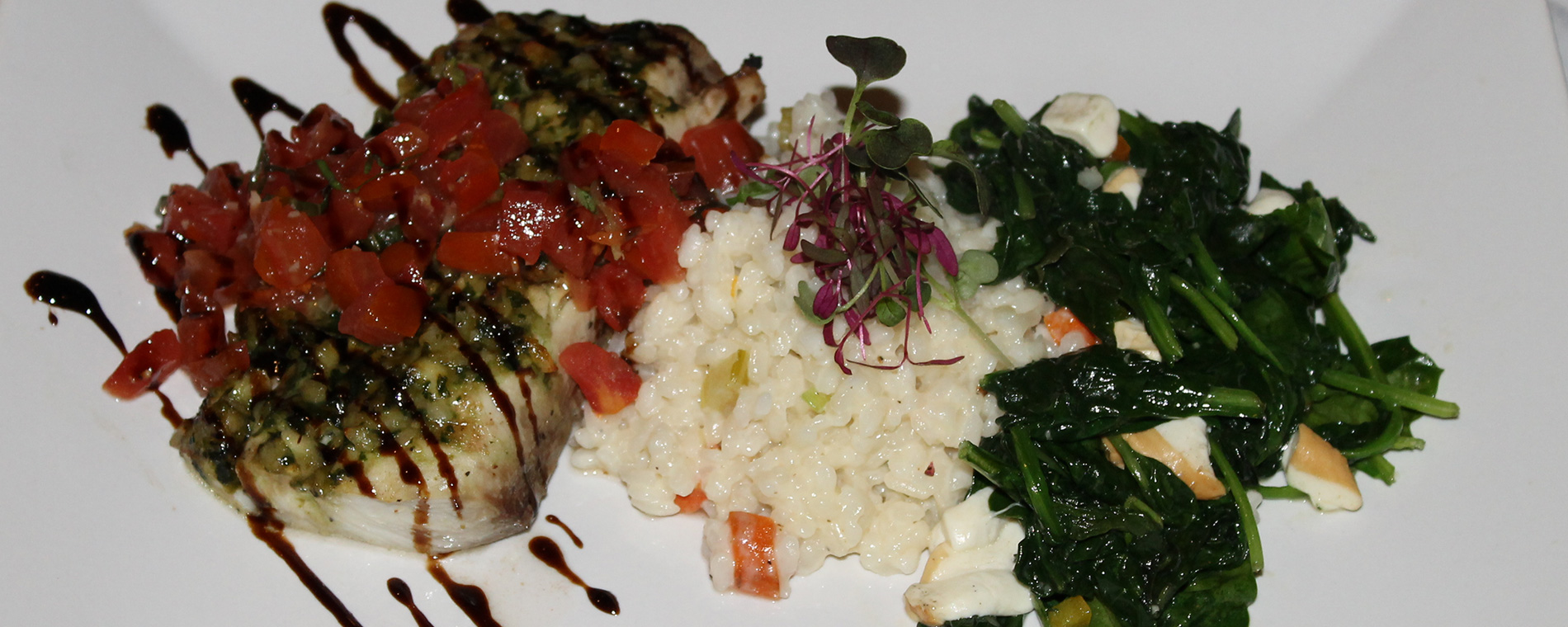 Starters and Small Plates
---
*These items may be cooked to order. Consuming raw or undercooked meats, poultry, seafood, shellfish or eggs may increase your risk of foodborne illness.
(910) 839-3131
pan sautéed escargot, shallot, garlic and fresh tarragon on grilled crostini
thin sliced prosciutto and Danish blue cheese served with white truffle honey, lavender, and grilled baguette rounds
Sesame seared tuna with house pickled ginger, mushroom soy sauce, and wasabi
Roasted corn and sweet pepper confetti crab dip with blue corn chips.
FRIED GREEN TOMATO STACK
$9
Topped with Bistro smoked Gouda and Vermont white cheddar pimento cheese-garnished with a shaved corn, ripe tomato, and cucumber relish
AVOCADO & SEAFOOD SALAD
$11
Blue corn fried avocado with a shrimp and lump crab seafood salad
PORTABELLA PARMESAN BITES
$9
Portabella parmesan bites—parmesan fried portabella mushroom with tomato sauce and fresh mozzarella.
Salad/Soup
House dressing –white balsamic vinaigrette Other available dressings: basil and walnut, buttermilk ranch, creamy blue cheese, roasted garlic Caesar
(910) 839-3131
Salad Additions
Full size salads only: fried oysters 9, chicken breast 6, tuna 11, salmon 9, shrimp 7,
beef tenderloin 4oz 9 or 8oz 15
(910) 839-3131
BABY KALE
Side: $6 | Entree: $11
Granny Smith apples, Danish blue cheese, Roma tomato, boiled egg, candied bacon, caramelized sweet onions -suggested dressing: basil walnut vinaigrette
SPINACH & QUINOA
Side: $6 | Entree: $11
Baby spinach, cucumber, tomato, spanish onions, almonds, shaved parmesan cheese with white balsamic vinaigrette
SOUTHERN ROASTED GARLIC CAESAR
Side: $4 | Entree: $9
Southern roasted garlic Caesar with shaved parmesan and cornbread croutons-roasted garlic Caesar
HOUSE SALAD
Side: $4 | Entree: $9
Chopped romaine/ mixed greens, cucumber, tomato, carrot, red onion, shaved red cabbage- house dressing-white balsamic vinaigrette.
Served with mashed potatoes and haricot verts. Your choice of preparation: grilled, blackened, fried, broiled, or sautéed & Your choice of sauce: picatta, roasted garlic tomato aioli, peach pepper, soy ginger, or tomatoes & artichoke hearts in a lemon butter sauce
Almond/Basil pesto rubbed mahi-mahi served over house smoked fresh mozzarella and sautéed spinach –finished with "bruschetta" diced tomatoes and aged balsamic drizzle—parmesan risotto.
BUTTERMILK FRIED OYSTERS
$19
Lightly fried and served over our Rockefeller sauce garnished with hollandaise served with mashed potatoes and haricot verts
Served over a white bean, Italian sausage and baby kale ragout—finished with roasted garlic and plum tomato aioli.
Horseradish and quinoa crusted salmon. A tangy peach and sweet pepper sauce served with mashed potatoes and haricot vert.
Sautéed shrimp, caramelized shallot, capers, artichoke heart, spinach, roasted garlic in smoked tomato cream sauce tossed with angel hair pasta topped parmesan cheese
GRILLED NEW ZEALAND RACK OF LAMB
half rack $20 full rack $29
With a garlic Dijon rub, rosemary demi, served with caramelized shallot mashed potatoes and sautéed spinach
BEEF AND OYSTER NAPOLEON
$27
Twin medallions of beef tenderloin grilled and topped with a Ritz cracker and oyster stuffing, finished with a Texas Pete hollandaise –mashed potatoes and spinach.
Grilled 8oz tenderloin with a burgundy demi, twice-baked potato & haricot verts
Grilled bone-n pork chop topped with sautéed apples and served with walnut risotto and braised red cabbage
BISTRO CHICKEN CORDON BLEU
$17
Pan sautéed chicken scaloppini topped with prosciutto, balsamic tomatoes, and smoked mozzarella cheese served with mashed potatoes and sautéed spinach
PIMENTO CHEESE BEEF MEDALLIONS
$26
twin medallions of beef tenderloin topped with Bistro pimento cheese-mashed potatoes and haricot verts
STUFFED PORTABELLA MUSHROOM
$16
Portabella mushroom stuffed with sautéed spinach, roasted red pepper, smoked mozzarella and served with parmesan risotto and grilled Roma tomato & a balsamic glaze
With noodles and red sauce
FRIED SHRIMP AND CARROT STICKS
$9.50
BUTTERED PARMESAN NOODLES
$6.95
KAILI'S AND CONNER'S FAMOUS
$8.95
Creamy veggie pasta with peas and carrots.